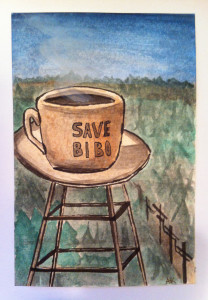 Dear Mr. Buchheister,
Let's roll the dice here.
The Reno community has some questions that, if answered, would allow us to feel better about the situation of the Coffeebar coming to town and opening in a controversial location on Mt. Rose St.
First a caveat:
You should not take  an assertive and confident community at their own evaluation unless you have independent reason to believe that the community does not know what they are talking about.
Well, we live here, in the Southwest of Reno and we're talking about our community. Maybe we're in the grip of an illusion but some shady dealings seem afoot.
This is not a competitive spite but an aim to surface — for better or worse — what's really going on in our beloved SW community.
We intend to uncover a coherent picture of the changes taking place at 680 Mount Rose St. We don't want to be left with doubt or conflicting impressions.
We believe in the right for everyone to go about creating their livelihood and prosperity as long as they are guided by the ethic of "do no harm".
Current Reality
Downcast as the situation is, Bibo will move and continue to prosper.
Yet, the community feels harmed.
Not because we are losing a coffee shop but because we are losing a community gathering place that is laced with (for the multitude of regulars who make a visit to Bibo a routine in their day) memories, history, a "feels-like-home" vibe, and more.
We know of married couples whose first encounter took place at Bibo.
Former President Carter's wife has even had the privilege to partake of the Bibo experience. It's not about coffee or any other product. The product that the Bibo flagship location represents cannot be easily replaced.
The real product of Bibo's Mt Rose location is an intangible good. One with a patina that takes time, usually eons, to produce.
And it is for this reason, this loss, the loss of an ineffable — it — that many are in an uproar.
Yes, it may appear that as a community we are resistance to change, but Bibo has stood by for nearly ten years as the world has shifted. How can anyone replace this? And, it is for this reason, that your intent to open a similar business in the same location as our beloved Bibo comes as such a sting, an affront, an antagonism felt neighborhood-wide and even farther afield across the valley that makes-up the Bibo-loving community.
As appearance would suggest (true or not), it seems to many that the Coffeebar has strong-armed control over the location with the intent to — create a community space and win customers one cup at a time through the quality of its tangible products.
That's honorable. But not at this location.
To be fair, from a business perspective, the dismal truth of hindsight would instruct that there are ways a leasor could have prevented a scenario like the one Bibo finds itself in today.
So, as far as strict business done to the inhumane legal letter there is some justification that– since the lease is not being renewed, it is the landlord's will to do what he wants with the property.
Fair enough and this could have been avoided with a few legal measures:
1. Non-compete clause in lease contract
2. Right of first refusal on lease renewal
Core Problem/Conflict
It seems the root cause of the situation stems from the management style of the landlord — and his less than good faith dealings with his tenants.
Yet, in this situation, the egregious replacement of Bibo, once its lease is up, with a similar me-too business coming from out of town, and — it appears — also, whose owner is a personal friend of the landlord.
Moreover, we have unsubstantiated accounts that the landlord counted Bibo's customers, estimated the profits and then shopped these numbers to potential future tenants behind the back of and without good faith of the current tenant, Bibo — true or not, legal or not, we don't know and hope anyone with further information can enlighten us by contacting Save Bibo.
For these reasons, there are some ethical matters that need to be cleared up before anyone who calls themselves a community member can become a patron of the Coffeebar — considering they continue to go ahead with taking over what will be the former Bibo flagship once the lease is up come July 1st.
If the Coffeebar was really intent on opening in the Bibo Mt. Rose location, there are many ways they could have gone about it, exhibiting good faith and, also, showing care and respect for the neighborhood and community.
Different ways an up-and-up community minded businessman may, providing they are well intended and endowed with common sense, have proceeded:
1. Propose a buyout and move offer to Bibo: isn't commercial real estate about location, location, locaton. In the fair transaction of taking over the space of a thriving business, there is usually a buyout for the location and moving expenses if you are so set on a certain location. Greg you must admit, Bibo did build and bring lots of value to this location. Moreover, over a 10 year span, Bibo built up a loyal following of consistent trusting customer.
Greg weren't you at all concerned about something fishy going on when you moved forward to take over the space?
You can argue that you are inexperienced and were overly dependent on the good faith of the landlord. Or, is he, as some have told us, a personal friend of yours?
Maybe the landlord is not a friend of yours, but your attempts to decouple accountability and lay all the blame on the landlord comes off as insincere.
As a businessman, you must certainly have heard of due diligence:
2. Due diligence, getting to know the community and the situation surrounding the current lease holder must have been par for the course. No?
Normally an astute businessman, to manage risks, spends a fair amount of resources on researching the dynamics of a transaction before signing a contract.
And as such a community minded businessman like yourself, Greg, you must have been a little suspicious of what was going on, or were you blinded by the opportunity — was greed a factor?
Weren't you suspicious or thought something wrong with Bibo vacating the space?
You seem to have done everything right in Truckee, why start your business in Reno by planting a bad seed by choosing a controversial location — even what could be termed a tainted space.
Greg we don't know all the details of your decision, but it would help if you provided facts that challenge our assumptions and make this easier for us to digest.
Vision/Solution: The Path to Peace
Acknowledging the overwhelming negative sentiment of the community, we propose that you do not open your Coffeebar at the current intended Mt. Rose location.
We are not looking to get "our way" but getting something better in the form of a win-win solution.
Bibo will succeed wherever it goes. It is moving. Coffeebar opens somewhere else, the landlord is left with an empty space and now an easily accessible public record so those seeking to move into his property — with proper due diligence (umm… can you say google search?) — can find-out and make informed business decisions about what they are getting themselves into.
We acknowledge that you may feel like you are stuck between "rocks and hard places". Yet, at the core of almost any problem or decision that one faces is the dilemma of doing one thing or another, pursuing one direction or another. As a community, we trust you'll choose wisely.
Cut your losses. Walk away.
There will be no hard feelings or bitter vibes from a large portion of the aggrieved southwest community.
At best such a move will mitigate, if not eliminate, the various individual issues being surfaced.
With that said, we are open to adapting our position to new information.
Concluding Remarks
Will you proceed with your plans?
As a community, we don't want to declare, "This one will never make it."
On the flip side, we'd love to have Coffeebar in the community, at a different untainted location, and we'd rather say, "You will be a star."
Who are we to make such prognostications, the wise folks reading this have already thought, "But of course anything could happen."
Currently a nasty and compelling impression prevails.
We don't want to be irresponsible and make extreme predictions: there is a general agreement that suppositions are better than blind guesses…but by how much?
We hope that you stand tall Mr. Buchheister and not be a wimp or arrogant fool–if you open the Coffeebar in Reno on Mount Rose St., we won't be surprised or have sympathy for your failure.
Karma's a bitch. Use your intuitive expertise, "Guiseppe style", and don't tempt the dark side of karma by moving your Coffeebar into the blemished Mt Rose St. location.
You have the power to end a vicious cycle.
Heed the signs our spiritual brother — don't feed the greed — it will destroy you and everything you have come to stand for amongst your current community in Truckee.
Your decisions in the coming months will speak volumes about your character.
Your latest vision quest has just begun — it's time to re-imagine the future you were planning and seek within, a positive force, moving you toward something better.
——-
For many of us living in Reno's old southwest, we are native-born Nevadan's, you might not understand our culture, we like a fair game — not loaded dice.
So moving into the Mt Rose location presents the neighboring community with a dilemma: in order to remain responsible and concerned community members, we must boycott any me-too business that has any resemblance to Bibo — anything we perceive as the co-opting of Bibo's success — because we deeply feel ethics have been violated, an injustice has occurred and the community has suffered for it.
Future judgments will not be altered "one cup at a time" but with the emotion-fueled injustice that you — whether knowingly or unknowingly — were a party to and will only serve to symbolize: taking the heart out of a tight-knit community.
That's an association no professional would want to have to overcome.
The Illusion of Validity "The sincere overconfidence of a professionals who do not know that they are out of their depth."
Is this something you want to be associated with — it is hard enough to build any new business in a new and unfamiliar location?
You might think this site, Save Bibo, to be biased and heavy handed, well a pugnacious style is our culture — if you intend to assimilate into the community, get used to it — you're in Nevada now.
We're not afraid to stand our ground: We are proudly Battle Born.
In Community,
The Save Bibo Activists
——-
Go proudly where no t-shirt ever believed it would have to go — to Save Bibo.
Shirts available for purchase thru Sunday May 5th, 2013.
Be a part of a historic community cause.
To support, provide tips and/or share an anecdote about the shady practicing surrounding the siege against the original Bibo location email the Save Bibo Movement at
uproar@savebibo.com